Christa Petch reflects on going with the flow with a young family in this unusual time
---

My butt sticks straight up in the air in the middle of our living room. Everyone is awake and milling about, including the dog. (Note: there is not one use of the word "quiet.") It's Saturday and I'm trying to have my yoga class. The dog walks under me and sits on my mat. The two-year-old scoots in on his run bike and gently stubs the small wheel into my heel. All the people in the house are in this one space…together…again. Breathe.
So the kids are watching me pant through downward dog, while I look upside down at my PJ-clad husband, who is scrubbing dishes from the night before because Netflix. I feel lucky. I really do. Here he is, rushing around, trying to get kids fed and out the door so I can have some peace and quiet. We all benefit from my "attendance" in this yoga class…all of us.
I "soften my gaze," intending to be more present in my body and breath. But my gaze hardens as I notice the sticky yogurt on the floor and see the slightly dehydrated carrot under the couch. Then I notice that it literally looks like no person has ever washed this floor, ever. Namaste.
After some family yelling about why the two-year-old's other shoe is always missing, the party of five eventually gathers up and ungracefully exits the home. I am left alone for the last 36 of 90 minutes of yoga and it is so, so good.
In the beginning, sleeping was a major challenge. I couldn't stop thinking about the people living a fresh hell in quarantine. Scared, hungry, hurt, bored, broke, lonely… I recognized my privilege in not facing any of these on a serious level.
I refrained from broadcasting the deep level of connection that our family was building. We read longer books, planted more seeds, hiked further. We baked the bread, survived the blowouts, brewed the kombucha. We home-schooled, cleaned (some of) the spaces, Zoomed with the friends and family, had the meltdowns, then made the love…it felt pretty good.
Regardless of what we went through, our family was going through it all together, all at once. In looking back, I already treasure this time.
This is the part of the story where you get to feel really good about yourself and I don't. Picture three cute little kids and their blankies cuddled up with a 91-lb dog on the couch (the same couch in the background of every zoomed class).
I take a photo of this sweet COVID moment and then realize I have to find the missing Apple remote in order to put a show on for the little cuties so I can score a morning snuggle with my husband. I hate looking through the couch crevices for things, because: three kids six and under. I elect not to do a blind cavity search with my hand and instead lift the first cushion with trepidation. No remote, but I do see a ball of raisins. But how would they stick together? Is it a piece of a homemade chocolate energy ball? No, I have only sent myself ten of those recipes (although I have yet to make even one).
Oh no. PLEASE don't let it be. Roxy, our 14-year-old boxer-mastiff, has been suffering from what I have coined "relaxed bowel syndrome." And yes, here I stand on a sunny Sunday morning, post-magical-photo-snap, looking at a poop nugget that has been in the couch for an undetermined time. Luckily (?) it's dried right through.
As I swing my left arm and soccer-mom my kids off the couch, I scream for my husband's emergency response. I madly call every carpet cleaning company under the sun. No one is open; no one will come.
After briefly discussing the illegal disposal/incineration of the couch, I cry a little and we use our small upholstery shampooer to do the entire couch. We all miss service providers during COVID-19, but this day I miss the carpet cleaner like I would a close family member.
COVID-19 is an unquestionably unusual time. We will all look back and see the unique things we did to get through the days and weeks. For my family, it has involved some unforgettable memories.
There was a toddler scaling the crib and knocking the diaper table over on a regular basis, and learning to open many interesting new doors, literally and figuratively.
There was potty training that all the kids played a role in, cheering successful toilet deliveries like the birth of a new sibling.
There was also a slowing-down-ness enough to find all the salamanders, slugs and frogs in the forest.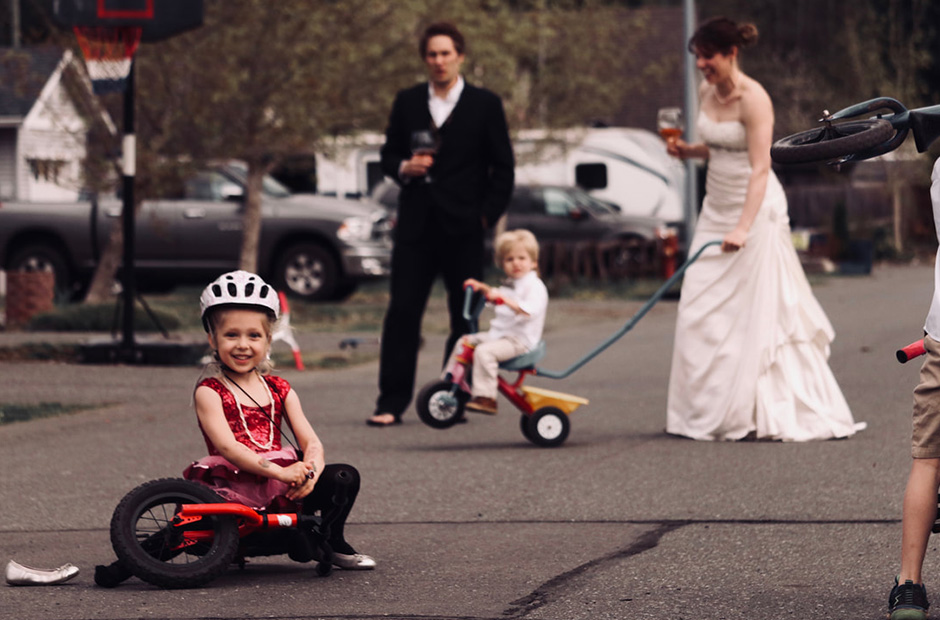 One day, we squeezed our under-exercised and over-Quarantini-served bodies into our wedding clothes for a front-yard wedding anniversary party or "Mom and Dad's Love Party," as the kids called it, referencing those wedding pictures in the hallway.
Music kept us sane, powered by DJ Homeschool Child and a Bluetooth speaker. To my kids' teachers: you can thank Too $hort & Meter Mobb, Nicki Minaj, and DNCE for the colourful vocab skills. It's not my fault: the family that quarantines together, rocks out together.
On our (sacred) outdoor morning adventures, I've started to teach the kids about metaphors. As we picnicked by some newfound waterfalls the other day, my five-year-old daughter spouted out: "If you fall into a river, Mom, it's best to just go with the flow. And if you go over a waterfall, you can scream…or you can just go over and then let yourself come up and start floating and then start trying to grab onto a rock and get out."
Basically, she just stated a life mantra for every person—with incredible insight and from an unusual place. COVID-19 is a reflective time, whether we want it or not.
Without minimizing the crisis, we are going through what is emerging as a remarkable transformation in our history—hopefully towards a more just and greener world.
It is a great pause, alongside a much-needed breath for the earth, all the while relentlessly testing our patience and capacity for change, adapting our limits and tightening our bonds.